19 Oct 2023
Experience small town Halloween festivities for kids and adults, such as trick or treating, parades, costumes, Day of the Dead celebrations and more. They are happening starting 10/27 to 10/31.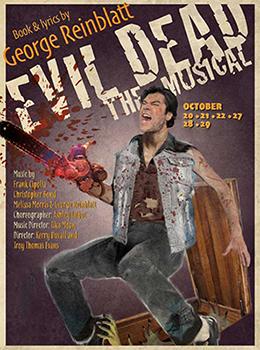 OCTOBER 27TH
Evil Dead, The Musical 
Oct 27-29
Raven Performing Arts Theater
Last year's bloody Halloween hit returns! Five college students go to an abandoned cabin in the woods and accidentally unleash an evil force that turns them all into demons. It's all up to Ash (a housewares employee turned demon-killing hero) and his trusty chainsaw to save the day. Blood flies. Limbs are dismembered. Demons tell bad jokes … and all to music. Buy tickets here.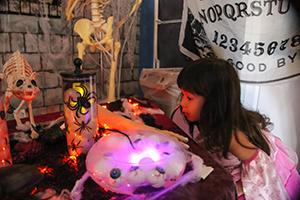 FUNtazmagoria
October 27 @ 2:00 pm – October 29 @ 7:00 pm 
Children's Museum of Sonoma County
A spooky "not scary" event! Dig for bones in the Ghastly Corn Graveyard and watch as pumpkins explode in the Pumpkin Plop. Our Mad Scientist Lab will be a not-to-be-missed experience in Ella's Art Studio with eerie electric exploration. Spider webs, ghostly shapes, and slime will all glow with a spectral light next door at the Ghostly Glow-In-The-Dark Lab. Play with bubbling potions and prepare to meet real live creepy crawlies in Mary's Garden. Buy tickets here.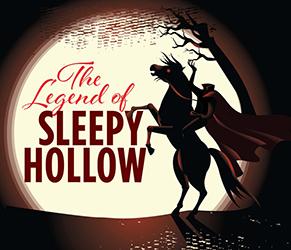 The Legend of Sleepy Hollow
October 13 – November 5
6th Street Playhouse
The Legend of Sleepy Hollow is an entertaining adaptation of the tale of The Headless Horseman that is both humorous and frightening. Staged in an abandoned New England pub some years after the Revolutionary War, playwright John Minigan tells Washington Irving's classic story through a single actor embodying twenty characters who inhabit Sleepy Hollow. Buy tickets here.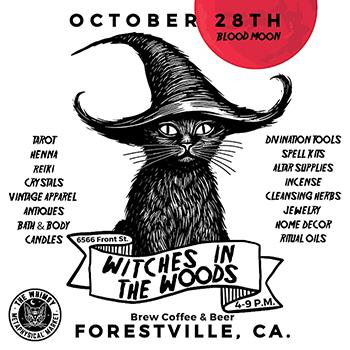 October 28th
Witches in the Woods
October 28, 4pm to 9pm
Brew Coffee Bar and Taproom (free event)
Join us Halloween weekend for a spooky night market and Halloween party at Brew Coffee and Beer in Forestville, CA. We will have even more artisans, more tarot readers, a henna artist, and even a couple special appearances. Come for our metaphysical market and stay for coffee, local eats, beer, and music. This is an all-ages event with Halloween costumes highly recommended.  
The Whimsy Market will run from 4-9 p.m. Stock up on all things witchy while we're in the area. You'll find crystals, divination tools, altar supplies, bath and body products, candles, ritual oils, an apothecary, and more. For details, click here.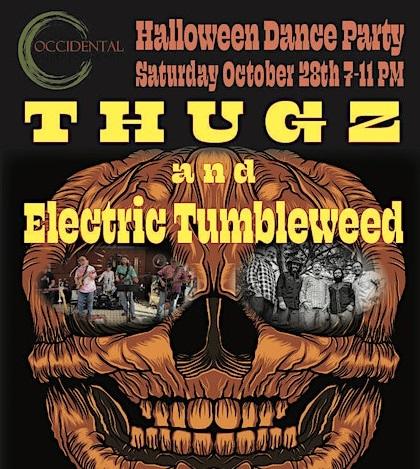 Halloween BASH with THUGZ and Electric Tumbleweed
Two great bands at our annual halloween dance party!
Saturday, October 28 · 7 - 11pm PDT
Occidental Center For the Arts, 3850 Doris Murphy Court Occidental, CA 95465
Two great bands, general revelry, costume contest and more! This event is so much fun - join us and get your groove on!
Tickets to this event are $30 GA, $25 for OCA members. Doors open at 6:30 PM. Beer, wine, refreshments for sale.
Put on your dancin' shoes and join the party! The "tribal hippie underground zone" (aka THUGZ) are sure to provide a fun time for all with their brand of original and classic jam rock. This multi-faceted band has delighted music fans of all ages and tastes.
Electric Tumbleweed is a psychedelic outlaw country group and their music is a hard driving mixture of twangy guitar and psychedelic noise, held together by a steady rhythm section with the cry of pedal steel layered in between it all. Get tickets here.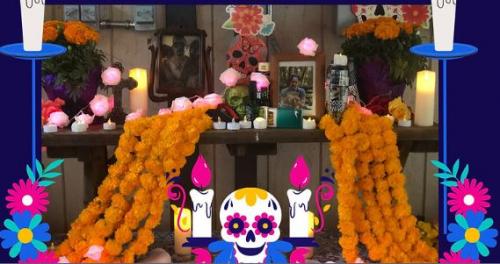 El Dia De Los Muertos and Community Altar Project
Sat, Oct 28 - Thu, Nov 2, 2023, 10:00am-8:00pm
(begins Oct 28th)- Celebration on Nov 2nd
Rio Nido Roadhouse, Rio Nido
One of the most important traditions of this holiday is the preparation of ofrendas (altars) to honor loved ones who have passed away as they make their journey to visit their living family members.
We build a community altar and give space for anyone to add to our altar to honor your loved ones.
The altar will be available to add to beginning Saturday October 28th. We will take down the altar on November 2nd. The celebration begins at 6PM on 11/2 with music and food. For details click here.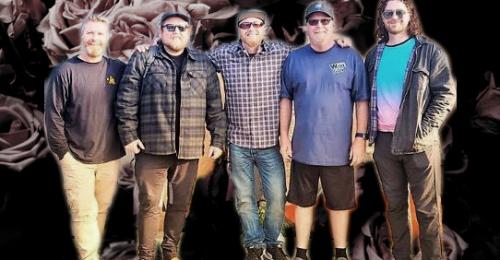 Halloween Party & Costume Contest w/Dead Roses
Saturday, October 28, 2023
Rio Nido Road House
Dead Roses, The North Bay's hottest Dead Tribute band brings the fire to Rio Nido once again. Dress in costume for the party and contest. Roses on the River! For more info.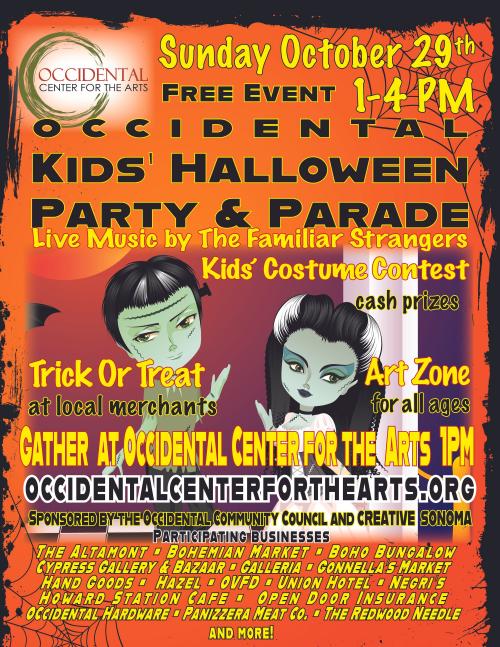 October 29th
Kids Halloween Party & Trick or Treat Parade
October 29, 1pm to 5pm
Occidental Center for the Arts
Costume contest for kids and families, live music, art projects for kids of all ages and more! This is a free event hosted by OCA and supported by the Occidental Community Council, Creative Sonoma and local Occidental businesses. The trick-or-treat parade leaves OCA at 4pm winding through downtown for tricks and treats from our local businesses. Bring the whole family to OCA for an afternoon of creative, silly and scary fun! More information here.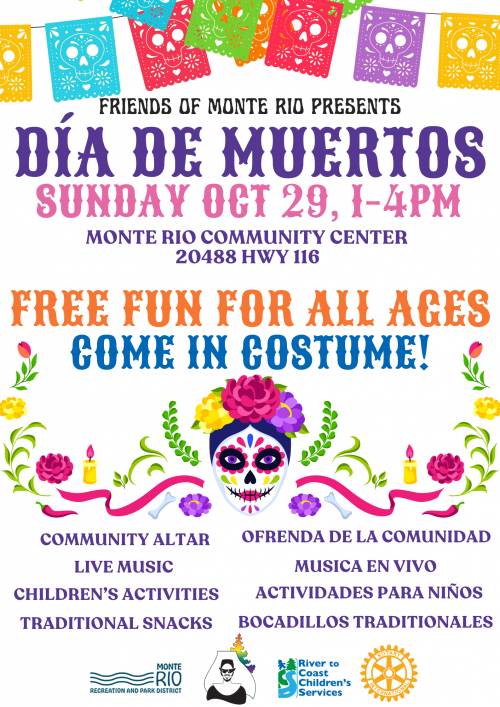 Día de los Muertos
Sunday, October 29, 2023
1:00 PM  4:00 PM
Monte Rio Community Center
Fun for all ages, come in costume. More information here.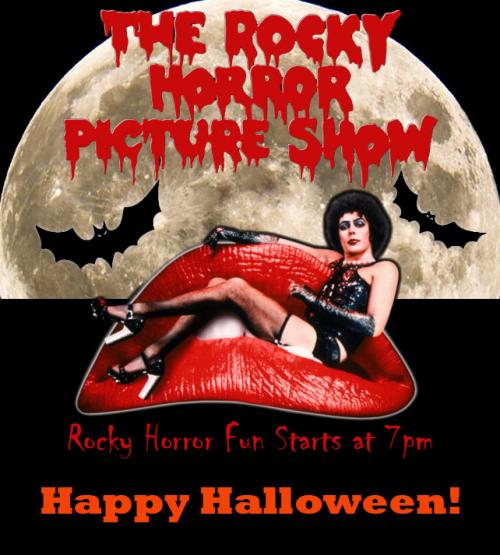 October 31st
Halloween Night!! Trick or Treating & ROCKY HORROR PICTURE SHOW
Tuesday, October 31, 2023
4:00pm-10:00pm
Trick or Treating for ALL AGES! Starting at 4PM
Our Annual screening of Rocky Horror Picture Show will start at 7PM (dark). We recommend ages 18+...so please beware this will be on the big screen. We will have goody bags and instruction booklets available for you to follow along with the film!
Free to attend! Small charge for goody bags.
Wear your costumes and get in the Halloween spirit! More information here.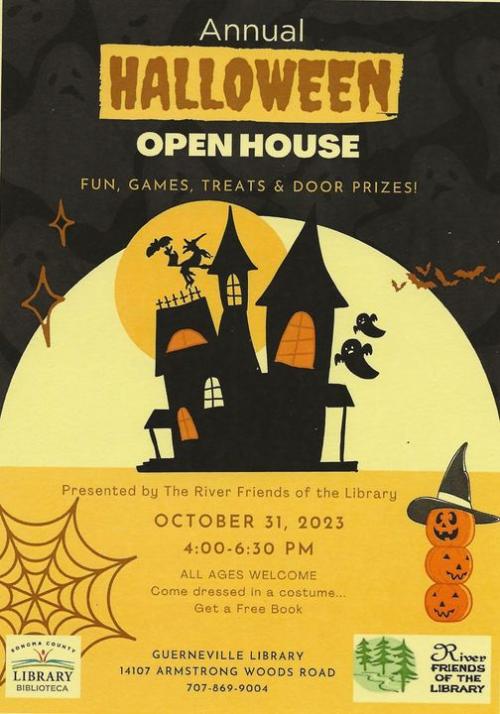 Halloween Open House at Guerneville Library sponsored by the River Friends of the Library.
Tuesday, October 31, 2023
4pm to 6:30pm
Guerneville Library, 14107 Armstrong Woods Rd
All ages welcome. Anyone coming in a costume gets a free book. There will be goodies for the kids and activities such as pumpkin painting and making a scary button. There will also be door prizes you can enter to win. Come on down for a spook-tacular time! More information here.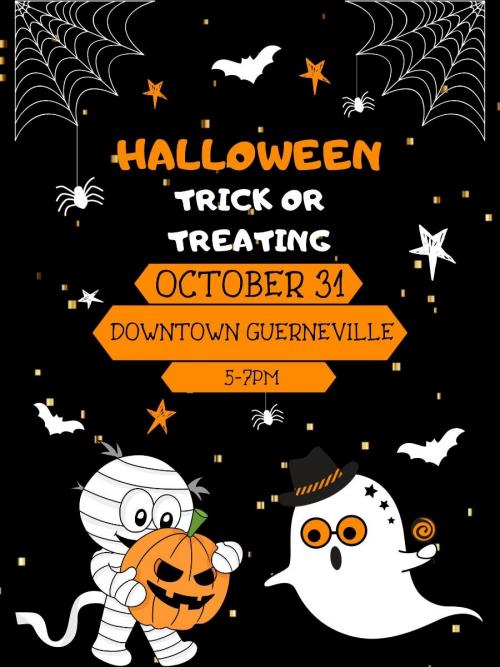 Trick or Treating in Downtown Guerneville! 
Tuesday, October 31, 5-7PM
Downtown Guerneville
The businesses on will be open and giving out treats to trick or treaters. Dress up and join in the fun!